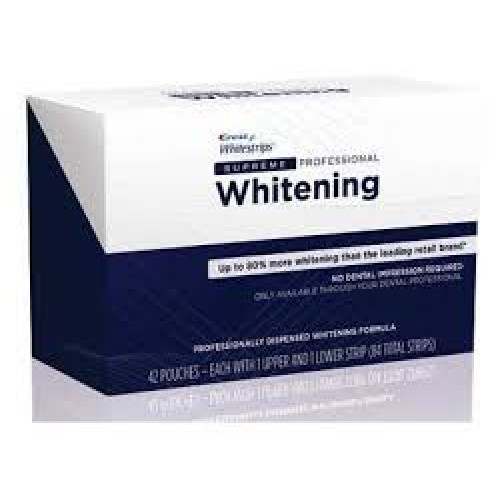 Crest Whitestrips Supreme dentist strength
If patients want professional dentist grade strips these are ideal for patients. They are the only whitening strip that are for professional use.

Contains 14% hydrogen peroxide.
These are the best Crest Whitening Strips available!

They remove both surface and internal (intrinsic) stains caused by coffee, tea, red wine, smoking etc and anti-biotics taken as a child.

They are made from a single layer of micro film that contains the whitening gel and they are the 'longest' strip available today (18% longer)

Enamel Safe; Crest Whitestrips Supreme work by the gel moving through the pores of your enamel and dentine and oxidising dark staining particles as it breaks down into oxygen and water, turning them white. The whitening gel in Crest Whitestrips Supreme does not damage, nor alter, your tooth's natural structure.

Wear the strips for 30 minutes for each treatment

Do not use Crest Whitestrips Supreme if you suffer from tooth sensitivity.
Thank you for shopping with HappySmile Dental Products. Please tell others about New HappySmile (UK).

Crest™ "Supreme" Professional Whitening Strips