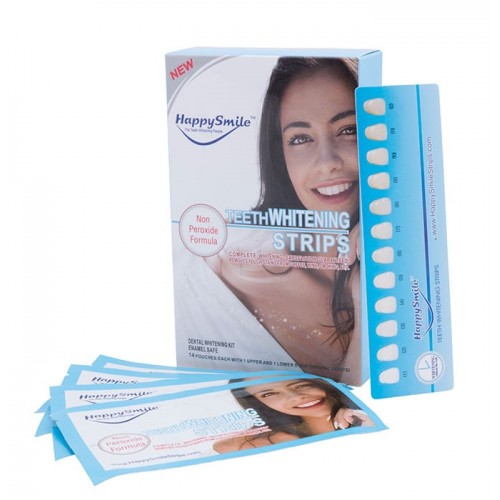 Closeout - Expiry date 14/01/2020


HappySmile Non- Peroxide Whitening Strips
(14 Day Supply Per Order)

Wear-time: 30 minutes, once a day x 14 days

HappySmile Teeth Whitening Strips are a new generation of whitening strip.

New technology allows the softer strip to surround each tooth and ensure an even, whitening effect.
Our non peroxide formula is designed to work in conjunction with the strip, offering unique activation technology for more effective teeth whitening.

Results can be seen in as little as one use.

All HappySmile gels are "gentle", easy to use and are highly comfortable to wear. You can always upgrade to the next strength (HappySmile hyrdogen peroxide whitening strips) with your next treatment.

The HappySmile brand is scientifically proven to work and is the most popular brand for a professional home tooth whitening treatment.

We manufacture advanced dental products by using the highest quality ingredients for a gentle, speedy tooth whitening treatment. You will always be delighted as we guarantee that the dental gel will always be highly active, fresh, with a higher viscosity in a neutral PH formula so it is ultra-gentle for a truly incredible tooth whitening experience.

Our prices are also very affordable too and includes FREE delivery.

Thank you for shopping with HappySmile Dental Products. Please tell others about New HappySmile (UK).
Ingredients
Glycerin, L-menthol, steviosde, EDTA, sodium chlorite, alcohol, PVP-K90, hydroxypropyl methylcellulose, PVP-K30.
HappySmile Non Peroxide Whitening Strips