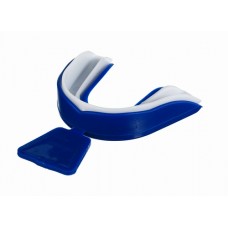 The "ORIGINAL" HappySmile™ Mouth Trays that you can make at home!

Each order contains 2 mouth trays (enough for 1 upper and 1 lower arch)
HappySmile orignial instant home trays are the best "instant" trays you can purchase as they were developed for tooth whitening and are very popular. Excellent results. Easy to use.

***HOW TO MAKE INSTANT HAPPYSMILE™ TEETH WHITENING HOME TRAYS -CLICK HERE ***

IMPORTANT: Please bookmark or print off the online HappySmile mouth tray instructions to keep for reference as you will need them. You only a need a pair of scissors & hot water to make them. No technical skills needed. Very easy to use.

HappySmile "original" instant trays were developed to be used with all types of dental whitening peroxide and have been used by thousands of customers worldwide for the last 20 years.

Original HappySmile instant make at home trays. Simply use our step by step guide to make them. No Labs needed. High Quality.
You only use the micro thin "inner" white tray. The blue outer tray is only used when you make them at home.

These mouth trays are made for home dental bleaching gels. No dental labs needed. You can make these at home you only need hot water and some scissors. You only need hot water to make them. You have (2) blue/white trays in each pack for both upper and lower.

EASY TO MAKE - EASY TO WEAR- EXCELLENT RESULTS

Our prices are also very affordable too and includes FREE delivery.

Thank you for shopping with HappySmile Dental Products. Please tell others about New HappySmile (UK).
Instant Make at Home Dental Whitening Gel Trays