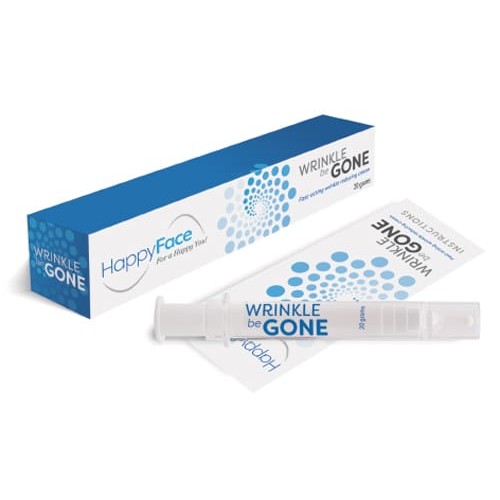 Wrinkle-Be-Gone
by HappyFaceUK
temporary wrinkle reducing cream
Decrease appearance of:
Crow's feet and wrinkles surrounding the eyes
Wrinkle-Be-Gone wrinkle reducing cream smooths fine lines, firms the skin, redefines facial contours, improves skin density, refines skin texture and minimizes visible pore size.
Each application of Wrinkle-Be-Gone typically lasts for hours or until it's washed off. Wrinkle-Be-Gone uses a unique blend of ingredients to temporarily tighten your skin.
Within minutes Wrinkle-Be-Gone visibly tightens and lifts crow's feet and wrinkles surrounding the eyes. Wrinkle-Be-Gone also smooths skin surrounding under-eye bags making them shrink from view in minutes. It also works on smile and forehead lines creating a visibly smoother appearance. Wrinkle-Be-Gone can be used anywhere on the face with fantastic results!
While the results of Wrinkle-Be-Gone are not permanent, we know you'll love the way you look after your very first use.


Directions
Use Wrinkle-Be-Gone on clean, dry skin and before applying any makeup.


HOW TO USE:
Wash and dry your face thoroughly.
Shake Wrinkle-Be-Gone syringe well.
Remove cap and protective white tip, then rotate plunger to the unlocked position.
Press down the plunger and dispense a small drop onto fingertip (half the size of a pea).
Gently pat a thin layer of cream onto target area, making sure to avoid contact with eyes.
Leave slightly damp on skin and remain expressionless for 3-5 minutes while product dries.
BETTER RESULTS:
Some users see better results after a second application. If you choose this option, please wait 5 minutes and repeat steps 4-6.
MAKEUP:
If you choose to wear makeup, wait at least 20 minutes before applying makeup. This will allow Wrinkle-Be-Gone to completely dry. Dry or powdered makeup works best with Wrinkle-Be-Gone. Avoid the use of any liquid products (oil or water-based) on areas where you have applied Wrinkle-Be-Gone, as they may deactivate the effects.
If you do use a liquid product please make sure it's oil-free. You also may need to reapply Wrinkle-Be-Gone in the case where the initial bond is broken due to the liquid application.

MOISTURIZER:
To achieve maximum results, do not apply any moisturizer to areas of skin where Wrinkle-Be-Gone is to be applied, as this may counteract effectiveness. We recommend using HappyFaceUK Hyaluraonic Moisturizer as part of your daily routine, whether it be before bedtime and/or in the morning.
If you choose to use a moisturizer, wait at least 15 minutes after application of the moisturizer before applying Wrinkle-Be-Gone. A second application of Wrinkle-Be-Gone may be required if you don't see the desired results. Oil moisturizers usually have a greater deactivating effect on Wrinkle-Be-Gone.
Ingredients
Organic Aloe, Matrixyl 3000, Palmitoyl Triepeptide-3, Kosher Vegetable Glycerin, Plant Stem Cells, Cucumber, Hydrosol, Organic Jojoba Oil, Botanical Hyaluronic Acid, MSM, Hydroxyethyl Cellulose, Carrageenan Gum, Silk Amino Acid Blend, Wildcrafted Periwinkle, Organic Licorice, Wildcrafted Eye Bright, Wildcrafted Reishi, Organic Gotu Kola, Vitamin E, Frankincense, Sodium Benzoate, Ethyl Hexyl Glycerin.
HappyFace Wrinkle-Be-Gone