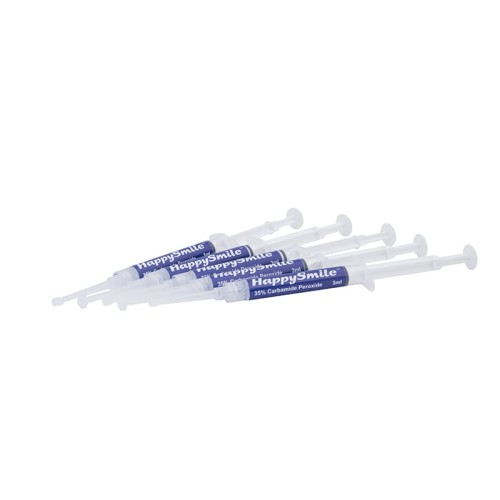 HappySmile 16% Carbamide Peroxide - 5 Syringe Pack
3.3 grams of gel per syringe!


Wear-time: 1 hour, once a day x 14 days

HappySmile 16% CP is often now used as the "gold standard" and is used as a first time starter gel for people who do not suffer with sensitivity. If you do suffer with sensitivity then start with HappySmile 10% as this is our lowest strength but you can then upgrade to HappySmile 16% CP on your next treatment. All our gels are in our unique no sensitivity formula.

All HappySmile gels are "gentle", easy to use and are highly comfortable to wear. You can always upgrade to the next strength (HappySmile 22% CP) with your next treatment. You will still get fantastic results with this "gold standard".

The HappySmile brand is scientifically proven to work and is the most popular brand for a professional home tooth whitening treatment.

We manufacture advanced dental products by using the highest quality ingredients for a gentle, speedy tooth whitening treatment. You will always be delighted as we guarantee that the dental gel will always be highly active, fresh, with a higher viscosity in a neutral PH formula so it is ultra-gentle for a truly incredible tooth whitening experience.

Our prices are also very affordable too and includes FREE delivery in the UK.

Thank you for shopping with HappySmile Dental Products. Please tell others about New HappySmile (UK).
Ingredients
Active ingredient: carbamide peroxide. Other ingredients: glycerin and/or propylene glycol, buffered polyacrylic acid and peppermint oil.
HappySmile 16% Carbamide Peroxide - 5 Syringe Pack