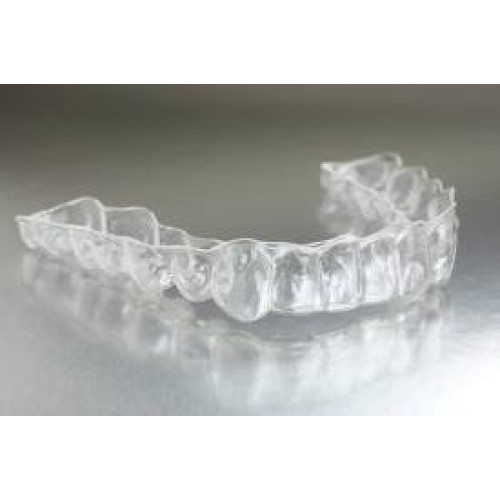 CUSTOM FIT Dental LAB MOUTH TRAYS (2mm) With IMPORTANT Reservoirs & Seals. HIGHLY RECOMMENDED!
(Custom Gum Shield)
Each order contains;
3 sets of standard (not heat mouldable) impression trays - small, medium and large
4 putties (2 sets)

The finished product is;


1 set of mouth trays (1 upper and 1 lower arch) and storage case.


RRP

£89.99 but Only £56.99 for HappySmile customers!
Only the very best dental trays for HappySmile customers!


Our ADVANCED Custom Fit Tray Lab Service Online. EASY!
We supply high quality 2mm trays with the important seals and reservoirs this is essential. Custom fit dental lab trays need to have the important reservoirs made for 100% perfect whitening.

In scientific papers it states that dental tray reservoirs MUST be used for correct professional patient tooth whitening treatment. If you do not have reservoirs then you can have uneven patchy results! The reason most dental labs do not include these is that it takes more time & skill to make these advanced custom fit dental lab trays.
Reservoirs are "tiny small pockets" that "hold" the gel into place on the tooth enamel.

HappySmile custom fit dental lab trays are made for perfection!
HappySmile supply (ADVANCED) Custom fit dental lab trays to our customers! (Not the BASIC 1mm cheap types that have no seals and no reservoirs that most dental labs supply.) Our expert dental lab staff will make your trays to 100% perfection.
This self-impression kit is not suitable for customers:
with crowns, bridges or veneers;
with any milk teeth or loose teeth;
with any existing oral health issues; or
who are undergoing dental or orthodontic treatment


Delivery
2nd Day Delivery is not available for this product.
Return Postage:
Once your impressions are complete they must be returned to our laboratory to finalise the process. Please note that full processing will take up to 10 working days from receipt of your impressions at our laboratory.
The cost to return the impressions is estimated at:

Royal Mail 2nd Class Signed For - £3.95
Royal Mail 1st Class Signed For - £4.45

By returning the impressions using the signed for service, your are also covered in case of loss.
Please note your parcel should be returned via Royal Mail as couriers cannot deliver to a PO Box.

Please Note:
Custom fit dental tray are fabricated by a third party professional dental lab.
Very easy step by step instructions will be provided for you to make your own dental impressions.

In the rare event that your impressions are not suitable for processing, there is a retake charge of £7.99 single impression and £9.99 for a double.
If you cancel your order within the 30 days after the impression material has been shipped, you will be charged £25.00 cancellation fee per order (coupons or discounts can not be applied to this fee)
as we are not able to accept returns of the impression materials. After 30 days, cancellations will not be accepted and no refund will be issued.
Impressions must be returned within six months of order or your order will be canceled without refund.
Thank you for shopping with HappySmile Dental Products. Please tell others about New HappySmile (UK).

Custom Fit Dental Trays (Advanced)