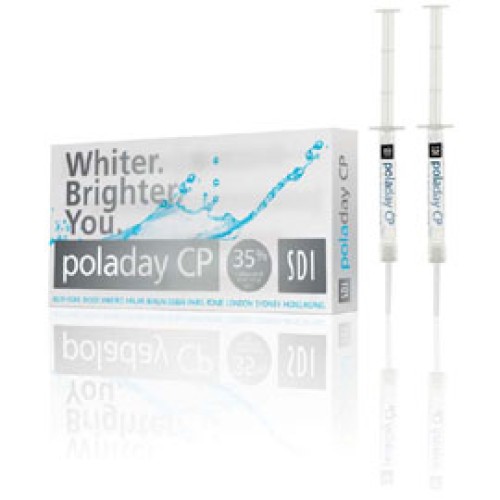 Poladay 35% Carbamide Peroxide - 4 Syringe Pack


If you have used the lower Poladay strengths then this NEW product will provide FASTER results and more whiter teeth. Stronger gels offer an "accelerated" tooth whitening experience for optimum results.

The high viscosity, neutral ph tooth whitening gels ensure the greatest patient comfort in a take home kit. The unique blend of soothers, conditioners and high water content assist in reducing sensitivity. The formation of plaque and tooth decay is significantly reduced.

Natural soother and conditioner
The incorporation of special additives minimizes plaque formation and enhances remineralisation to further reduce sensitivity. Antibacterial properties help in tooth recovery.
High water content
The high water content of the gel reduces dehydration of the enamel and decreases patient sensitivity.
High molecular weight thickener
This reduces the tacky feeling and drying effect of the gel in turn reducing sensitivity further.
High viscosity
The high viscosity gel ensures it can be easily and securely placed into the tray and remains in the tray for the entire procedure.
Taste
The pleasantly flavoured spearmint gel is both fresh and long lasting.
Size
1.3 grams per syringe.
Thank you for shopping with HappySmile Dental Products. Please tell others about New HappySmile (UK).
Active ingredient: carbamide peroxide.
Poladay 35% Carbamide Peroxide - 4 Syringe Pack